Exhibition at the "Salon des Arts d'Automne" in Mornant from October 19 to November 3, 2019.
Mornant is a small village located in the south of the Lyon mountains. "Small but strong" as the saying goes! Indeed, Mornant is active in many fields including culture and access to art. All year round, exhibitions, workshops, events, especially in the Maison de pays.
In October, Mornant organizes the Salon des Arts d'automne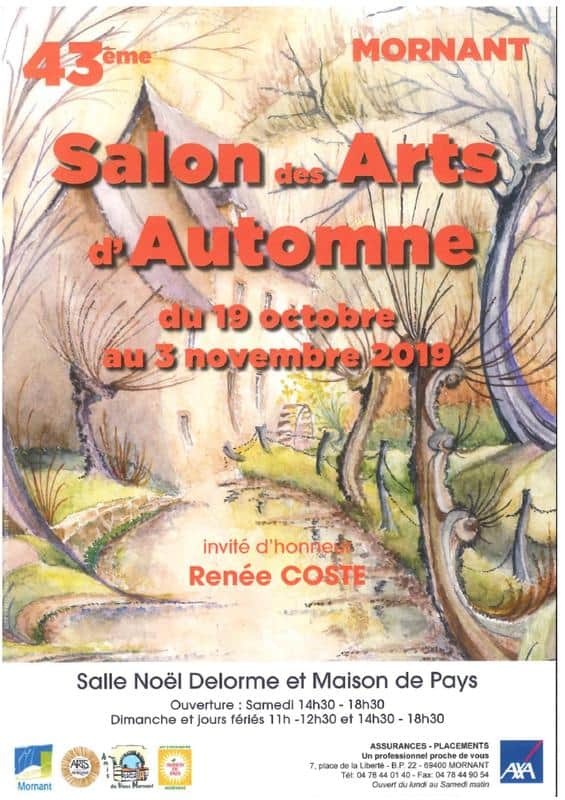 You can discover a selection of acrylic paintings with new works created especially for this exhibition such as "The Dancers" presented here on my Facebook page.
Several painters will be present, including Sane, a visual artist who also deals with the subject of women.
Opening on October 19th from 5pm!
I look forward to seeing you Saturday, October 19 from 5pm for the opening of the exhibition. All the painters and organizers of the event will be present to meet you.
The exhibition Salon des Arts d'Automne until November 11
WHEN, WHERE?
Every day from 11:00 to 12:30 and from 14:30 to 18:30
From 19 October 2019 to 11 November 2019
Delorme Christmas Room and Maison de Pays
ORGANIZER
Maison de Pays de Mornant : 06.07.66.66.01.59
FURTHER INFORMATION
Access adapted to people with reduced mobility
RATE: Free of charge
Partager sur facebook
Facebook
Partager sur google
Google+
Partager sur twitter
Twitter
Partager sur linkedin
LinkedIn