Noémie Labrosse is selected to participate in the ART & MODE, IT COUPLE exhibition which will take place from January 31 to March 21 at Studio Club Arty.
From January 31 to March 16, 2020, LeStudio invites young contemporary artists to share their vision of the sulphurous Art-Mode duo. This theme completely reasoning with Noémie's paintings and in particular her series "Women", this project inevitably inspired him!
The artist questions the relationship of the body to clothing, in a society where appearance becomes DNA. Shouldn't life be sublimated by clothing? Is the body more alive than the costume? The habit should be one, marry a body, a soul and make them dance. And above all, everyone should be free to decide on this "second skin" and its movement without undergoing religious, political or societal injunctions.
This exhibition organized by Studio Club Arty in partnership with MAD will be enriched with several highlights such as stage performances, parades, workshops, exchanges…
Opening on January 31 at 38/40 Rue de la Victoire, Paris9.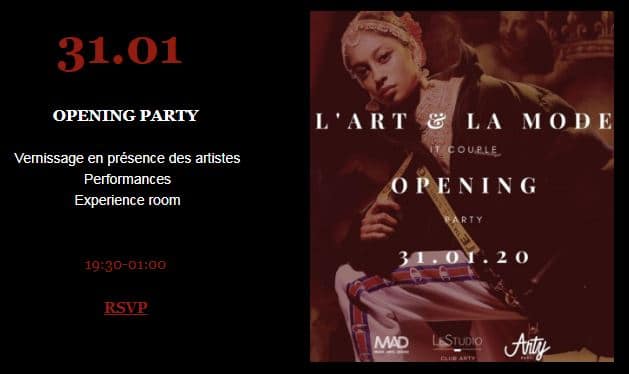 Come to Studio Club Arty for a moment of meeting, exchange, and reflection with the artists of the exhibition: Maryon Djavadi, Haoua Habré, Jactatus, Véronique Khammisouk, Laura Ma, Alexia Martin Cie Dayma, Pergame and myself 😊
The opening of the exhibition on January 31 will be punctuated by different performances and experiences and the exhibition open until March 21, 2020.
See you on January 31 to discover my work exhibited in Paris or on the networks: Facebook and Instagram!