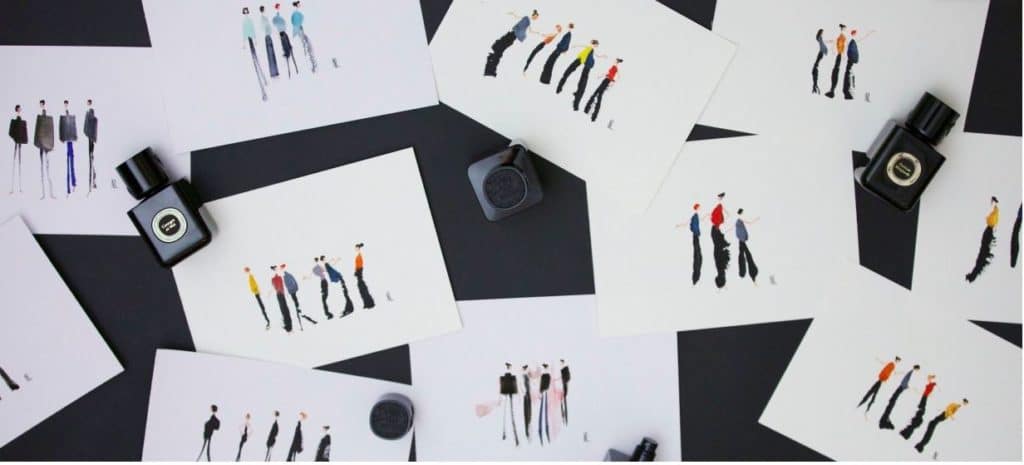 Exhibition "No New Style, No New Fragrance" at the Sabé Masson Paris shop.
As an obvious mixture, a magical encounter… it is quite naturally that
"No New Style, No New Fragrance" marks the beginning of a beautiful story with Sabé Masson. Read Sabé Masson's article on the event here.
Sabé Masson, "la Maison du Soft Perfume".
The brand offers another way of perfuming oneself, combining the origins of perfume and the modernity of women. A gesture, an attitude, an elegance… with a range of solid fragrances and 28 fragrances created and present in Europe, Asia and America.
Each packaging offers a different graphic design. The series Jardins de la Comtesse de Ségur is an olfactory vegan edition inspired by the tales of the Countess de Ségur, illustrated by Lucille Clerc.
Go also discover the Great Classics on the website and for the pleasure, here are some pictures of the shop where I exhibit, 4 Rue de Franche Comté, 75003 Paris.
Here are some souvenir photos of "Pas de New Style, Sans New Fragrance" (2018 exhibition, just one year ago).
See you soon for new collaborations!
Share on facebook Facebook Share on google Google+ Share on twitter Twitter Share on linkedin LinkedIn Share on pinterest Pinterest